Dedication
This report is dedicated to Ghanimat Azhdari (1983-2020), a young and passionate leader from the Qashqai tribal confederacy in Iran. Ghanimat was a specialist in Geographic Information Systems (GIS) and community mapping, working tirelessly to support the participatory documentation of territories of life with the national federations and unions of nomadic tribes in Iran (UNINOMAD and UNICAMEL; see Chahdegal case study and Iran national analysis in this report). She was contributing her deep knowledge and skills to the development of this report when her life was unjustly cut short on 8 January 2020. Ghanimat played important roles in the Centre for Sustainable Development and Environment (CENESTA) and the ICCA Consortium and was pursuing her PhD at the University of Guelph at the time of her passing. She is dearly missed. Her legacy will continue through the work of the many people whose lives she touched during her short time on Earth.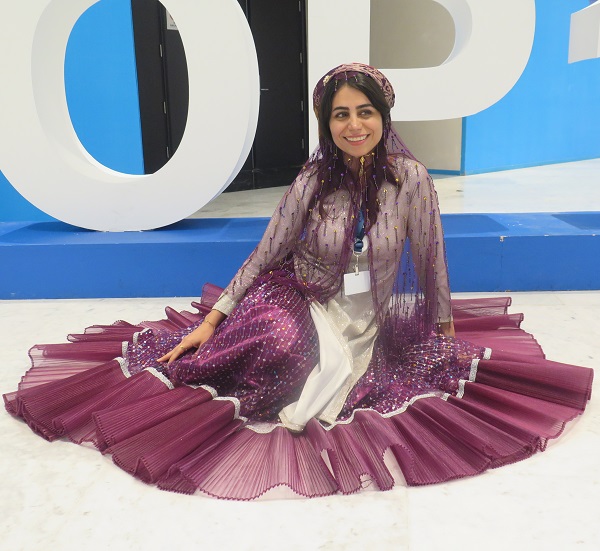 ---
Territories of Life: 2021 Report
Citation
ICCA Consortium. 2021. Territories of Life: 2021 Report. ICCA Consortium: worldwide. Available at: report.territoriesoflife.org
ISBN 978-2-9701386-3-1
Creative Commons Attribution-NonCommercial License 3.0
Coordination and production
Overall direction: Holly Jonas
Coordination: Thomas Niederberger
Concept development: Grazia Borrini-Feyerabend
Editing and proofreading in English: Colleen Corrigan, Thomas Niederberger and Holly Jonas
Website development and design: Melissa Chávez
Graphic design and art direction: Ines Hirata and Kathia Carrillo
Illustrations: Jesed Mateo Montejo
Communications campaign and media: Kathia Carrillo and Mohammad Arju
Coordination of engagement in the UN Convention on Biological Diversity's post-2020 process: Ameyali Ramos
Finance and administration: Sarah Ryder and Anne Meier
Authors
Executive summary: Holly Jonas, Colleen Corrigan, June Rubis, Leila Vaziri Zanjani
Territories (case studies):
Africa: Joseph Itongwa and Christian Chatelain (Kisimbosa, DR Congo); Cécé Noël Kpoghomou and Mamadou Diawara (Yogbouo, Guinea); Mihanta T. Bakoliarimisa (Fokonolona of Tsiafajavona, Madagascar); Salatou Sambou and Christian Chatelain (Kawawana, Senegal); Emmanuel Sulle, Makko Sinandei and Resiato Lembeka (Lake Natron, Tanzania).
Americas: Michael Ferguson, Kolola Pitsiulak, Adamie Nuna, David Irngaut, Phillip Manik Sr., Eli Kavik and James Qillaq, for the Qikiqtaaluk Wildlife Board (Qikiqtaaluk, Canada); Pueblo Originario Kichwa de Sarayaku and Fundación ALDEA (Sarayaku, Ecuador); Board of Directors of Natural Goods and Resources 48 Cantons, Silvel Elias, Felipe Gómez and German García (Komon Juyub, Guatemala); Wrays Pérez, Tami Okamoto and Thomas Niederberger (Iña Wampisti Nunke, Peru).
Asia: Saw Paul Sein Twa, Julia Fogerite and Casper Palmano (Hkolo Tamutaku K'rer, Burma/Myanmar); Yingyi Zhang (Fengshui forests of Qunan, China); Aditi Veena, Aman Singh and Nitin Bathla (Adawal ki Devbani, India); Cristina Eghenter, with contributions from Kasmita Widodo, Yutang Bawan, Saul Jalung and Andris Salo (Tana' ulen, Indonesia); Hamed Shahiki, Nina Aminzadeh Goharrizi and Ali Razmkhah(Chahdegal, Iran); Jailab Kumar Rai and Nima Lama (Tsum Valley, Nepal); Glaiza Tabanao (Pangasananan, the Philippines).
Europe: George Iordăchescu, Anna Varga, Monica Vasile and Irina Sinziana Opincaru (Homórdkarácsonyfalva Közbirtokosság, Romania).
National and regional analyses: Paola Maldonado, Jaime Robles and Verónica Potes (Ecuador); Cristina Eghenter, Cindy Julianty, Kasmita Widodo and Dewi Puspitasari Sutejo (Indonesia); Ghanimat Azhdari, Ali Razmkhah, Nina Aminzadeh Goharrizi, Maede Salimi, Ahmad Beiranvand, Nahid Naghizadeh and Soheil Hosseinzadeh (Iran); Jazzy Rasolojaona, Stefana A. Raharijaona, Jenny Oates, Rupert Quinlan, Vatosoa Rakotondrazafy, Toky Mananoro and Vololoniaina Rasoarimanana (Madagascar); the Philippine ICCA Consortium (the Philippines); Fred Nelson (East and Southern Africa).
Global spatial analysis: Jessica Stewart, Joe Gosling, Colleen Corrigan, Holly C. Jonas, Leila Vaziri Zanjani and June Rubis
Translations
Translation coordinators: Daniela Campos Rubio and Gaëlle Le Gauyer
Editing and proofreading in French: Rachel Babin, Christian Chatelain and Gaëlle Le Gauyer
Editing and proofreading in Spanish: Daniela Campos Rubio and Pablo Maturana Fuentes
Web publishing support in Spanish and French: Camila Barrenechea Orellana and Solène Chatelain
English translations and additional editing: Katharine Abbott, Teodora Hasegan, Chris Jarrett, George Smith
French translations: Rachel Babin, Solène Chatelain, Bianca D'Aoust, Clémence Delpeux, Marie-Line Sarrazin, Claire Vittaz
Spanish translations: Josefina Boris, Pilar Caamaño, Manuel May Castillo, Xaviera Elorza, Raúl Ho, Roxana Paz Lara, Constanza Monterrubio Solís
---
Funding partners
The production of this report was collectively supported through the Global Support Initiative to territories and areas conserved by Indigenous peoples and local communities, which is delivered through the UNDP-implemented GEF Small Grants Programme and funded by the German Federal Ministry of the Environment (BMU); and by the National Geographic Society and Campaign for Nature, Sida through SwedBio at the Stockholm Resilience Centre, Synchronicity Earth, The Christensen Fund and Tikva Grassroots Empowerment Fund of Tides Foundation.

---
Disclaimer
The contents of this report do not necessarily represent the views of the ICCA Consortium in its entirety or of its funding partners. Any errors or omissions remain the responsibility of the authors.